Solomon's United Church of Christ
"the church on a mission"
Spring through Fall: Solomon's Church offers classes each Sunday morning 9:00 – 10:00 a.m. Nursery through Adult (2 classes).
Church School and Confirmation Classes:  Classes begin September 13th at 9:00 a.m.
2017 Confirmation Class: New members welcome to become part of the Confirmation Class of 2017.  First class September 13th at 9:00 a.m.
Advent Mission Project:  Thanks you for supporting our "personal care" project.
Church School Christmas Program December 18, 2016 at 7:00 p.m.
Church School Picnic – June 5 at Macungie Memorial Park: 
"Souper Bowl Caring" Appeal: Donations collected for Lehigh County Conference of Churches January 24, 31 and February 7.
Food Drive: Thanks you for your donations.  Our next food drive will be in the fall. Thank you for supporting our food drive!
Heifer Project: Church School collects donations to purchase "draft animals" from April 3 to April 24.  Children's special presentation April 24 during the 10:15 a.m. Worship Service.
Vacation Bible School:  Joint Vacation Bible School with Grace Lutheran Church to celebrate our 175th anniversary. This year's activities will be held at Grace Lutheran Church August 8-12 from 6:30 p.m. to 8:30 p.m.  All are invited to join in "Cave Quest".
Opportunities are provided in our program to help develop Christian character by:
Teaching the Word of God
Confirmation instruction
Mission projects to encourage good stewardship
Fellowship activities
Some special programs and projects during the year are:
"Welcome Back" (an opportunity to meet the teaching staff)
Food drives
Heifer Project
Christmas Program/Party
Easter activities
Gifts for the homebound
Worship Presentations
Advent Mission Project
Solomon's youth activities for all ages. See Youth Page for more details.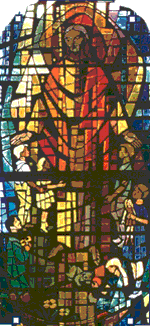 Blessing Children